The Cleveland Browns and Odell Beckham Jr. will part ways.
2 min read
After giving up a 1st and 3rd round pick, along with Jabrill Peppers and Kevin Zeitler, in March 2019, the OBJ experiment in Ohio is over.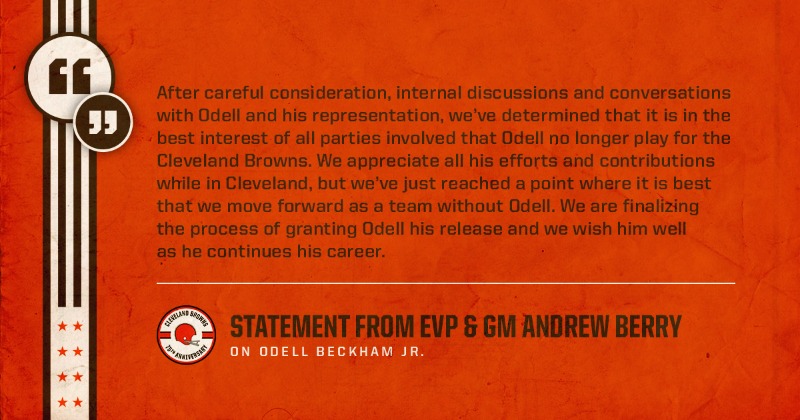 After an Instagram rant by Beckham Sr. went viral, it also emerged that Beckham Jr has not reached out to smooth things, and Head Coach Kevin Stefanski announced to his players on Wednesday that Odell would no longer be a part of the team. Further news is that the Browns and Odell's representatives are working out a deal around releasing the former LSU Tiger and saving cap room. It would appear that both sides have reached a consensus that benefits each party.
Drafted 12th overall in 2014, behind Sammy Watkins and our own Mike Evans, Beckham Jr is one of the most electrifying talents in the game. Everyone who follows football has seen his highlight reel of should-be-impossible catches.
But, OBJ has always been a case of potential never fully realized. There have been spots of occasional drama — fights with kicking nets. Most frequently and frustratingly, Beckham Jr has been injured. In fact, in his 8 seasons in the league Odell Beckham Jr has completed a 16 game season just twice!
The best ability will remain avail-ability.
While missing so many games, Beckham Jr. has managed to generate over 1000-yards receiving in each of those seasons that he has been healthy. The talent is clearly there. The question is, can he stay healthy long enough to change the fortunes of another team?
With the recent news that Micheal Thomas will not be playing this season, a return to Louisiana might be in the cards. Beckham Jr. made his name in the home state of the New Orleans Saints, and they certainly have a need of a playmaking WR to take some pressure off the still-developing QB situation.
There is another team looming on the horizon.
With injuries to Scotty Miller and Antonio Brown having uncertain return timelines and Beckham Jr. desperately looking for a ring, don't be surprised if another Receiver from the 2014 class arrives in town.
Inside whispers talk about a level of interest between the Buccaneers and Beckham Jr, but much will need to be resolved before any deal is reached. Salary, injury status all need to be considered for a player that turns 29 on this day. 
It would certainly be exciting to see Beckham Jr lining up opposite Mike Evans. But is it realistic? Everything is dependent on if he can clear waivers as the Buccaneers would be on the furthermost end of the waiver line. Where ever the veteran wide receiver ends up, no one knows, but Odell Beckham Jr. is willing to play for less money in order to get signed quickly and start playing football again.