IT'S SAINTS WEEK!
If the Tampa Bay Buccaneers do have a "rival", it's definitely the New Orleans Saints. It's been that way for years, but it's even more so this year. It was a fun rivalry when Drew Brees was there — now it's different. It all changed with Jameis Winston at quarterback. It's no longer fun; it's something else. It's more bitter. Now I'm not going to make this a Jameis bash fest. I don't wish any ill will to the guy. But I won't wish him luck either. There's a reason that he chose to sign with the Saints. It was his "subtle" way of giving the Bucs the finger. That's cool. I get it. Just know that it struck a nerve with most Tampa fans.
But enough about that.
It's the Bucs versus the Saints. I used to HATE the Packers — then it was the Rams, then the Eagles, and now, it's the Saints. I just can't stand them. It was such a gratifying feeling to beat them in the playoffs last season, especially after losing both regular-season games to them and getting embarrassed in our home stadium. But now it's a different season, a different quarterback, a different offense, a different Saints team. But none of that changes the hatred.
Did I mention that I HATE THE SAINTS?
I want nothing more than for the Bucs to march into New Orleans and rock them like a hurricane. So let's talk about what's going on with the Taints, I mean Saints, and see what the Bucs will be up against on Sunday.
SAINTS OFFENSE
The Saints offense has been pretty average this season, ranking 15th in the league with 19 total touchdowns, where the Bucs are ranked #1 with 30 total touchdowns. Their passing offense is ranked 31st with just 1,126 yards, but Jameis Winston has thrown 13 touchdowns to just 4 interceptions which is a decent ratio for him. They're also in the middle of the pack, ranking 17th in rushing with 723 yards; however, their 3.9 yards per carry average ranks near the bottom of the league. Their offensive line has done a decent job of protecting Winston, giving up 11 sacks in 6 games, but they haven't faced a front seven like this Bucs defense.
Most of their offense has been running through Alvin Kamara this season. He's their leading rusher with 419 yards and a touchdown, but he also leads the team in receptions with 25 catches for 241 yards and 4 touchdowns. Michael Thomas has been out with an ankle injury, so Marquez Callaway is their leading receiver with 16 catches for 254 yards and 3 touchdowns. Jameis Winston is having a solid season so far. He's completed 59% of his passes for 1,114 yards, 13 touchdowns, and just 3 interceptions. He currently has the highest TD% (8.6) and lowest INT% (2.0) of his career. In fact, PFF has him as the ONLY quarterback in the league, with 100+ dropbacks and zero interceptions from a clean pocket this season; however, the offense has been inconsistent this season, scoring 38, 7, 21, 28, 33, and 13 points, averaging 23.3 points per game. They did just make a trade with the Texans for Mark Ingram on Wednesday. He practiced with the team on Friday and is supposed to play Sunday— although it isn't clear on how much. With no Michael Thomas to worry about, the game plan for Todd Bowles should be simple. Stop Kamara, and you stop the Saints. Period.
SAINTS DEFENSE
The Saints' defense is a different story — this is a showdown of the top two rushing defenses in the league. The Bucs are #1, giving up just 472 rushing yards, 3 touchdowns, and 3.7 yards per carry in 7 games, while the Saints are #2, giving up 485 rushing yards, 4 touchdowns, and 3.3 yards per carry in 6 games. The Saints pass defense is also solid, ranking 10th in the league, giving up just 1,504 yards and 6 touchdowns, while grabbing 9 interceptions and sacking the opposing QB 13 times. But they're facing a Buccaneers offense that leads the league in scoring and passing yards AND who's averaging more than 4 yards per carry when they do run the football. This defense still has Cameron Jordan and Marcus Davenport hunting the quarterback with Malcolm Jenkins and Marshon Lattimore patrolling the secondary. They're pretty good, but the Bucs offense is better.
WHO'S OUT, WHO'S IN!
BUCCANEERS
The only player officially ruled out for Sunday— as of now — is Antonio Brown, who is still dealing with an ankle injury. That means that Lavonte David, Rob Gronkowski, Richard Sherman, and Dee Delaney all still have a chance to play. The Bucs are also getting cornerbacks coach Kevin Ross and offensive assistant A.Q. Shipley is back after being on the COVID list for the Bears game last week.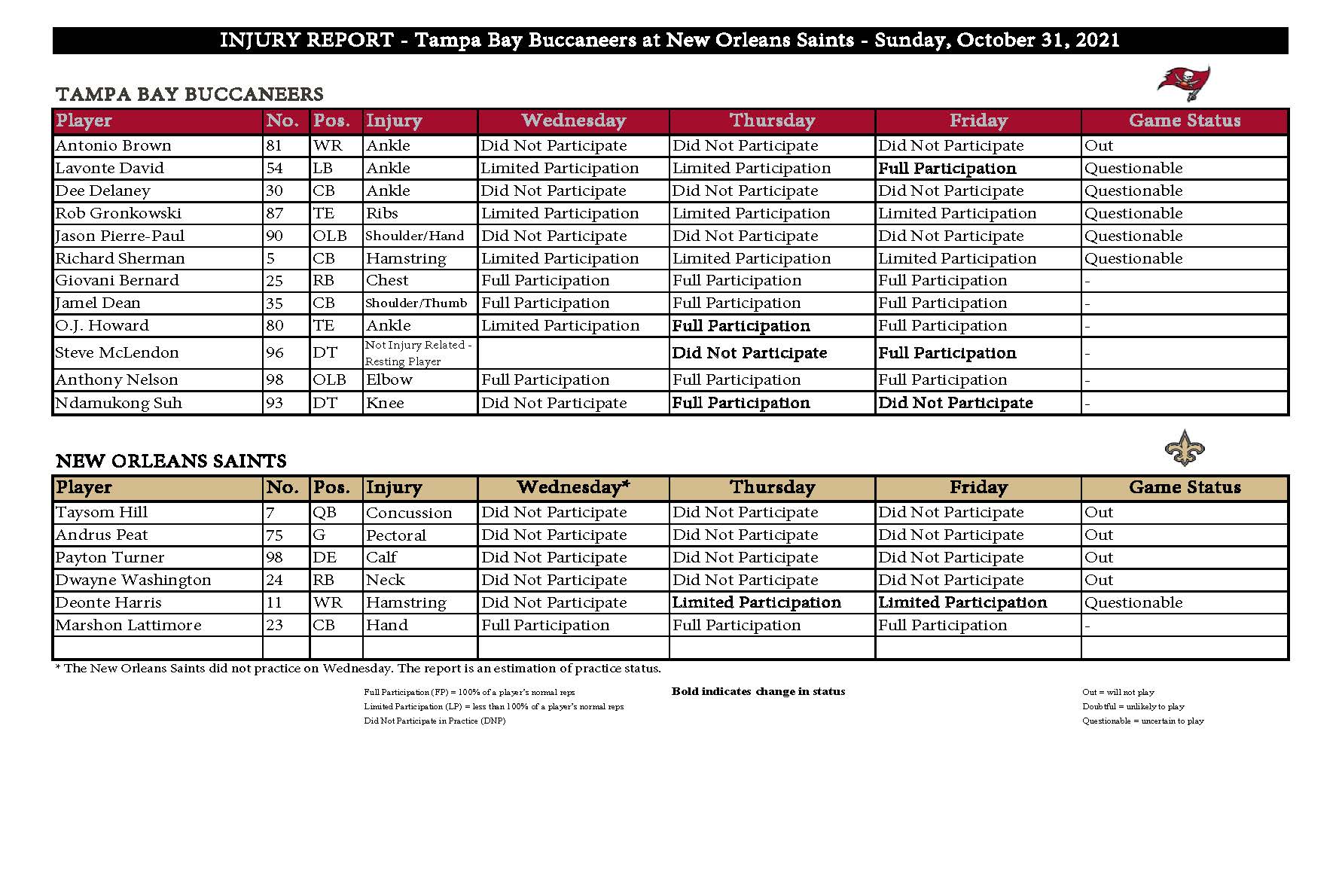 SAINTS
It looks as though the Saints will be without their starting left guard, Andrus Peat, who suffered a torn pectoral muscle in the Monday Night game against the Seahawks. They will likely be missing backup QB and gadget player extraordinaire Taysom Hill, who's been in concussion protocol since Week 5. Michael Thomas is still on the Physically Unable to Perform list with his surgically repaired ankle from last year and has yet to make his 2021 debut, despite being eligible to come off that list last week. Other than that, New Orleans comes into this contest fairly healthy.
MATCHUPS TO WATCH
Mike Evans vs. Marshon Lattimore
These two are always fun to watch play. Evans is having an outstanding season so far with 37 catches for 496 yards and 7 touchdowns. Not only are both guys good players, but they both play physically. At some point in this game, you know, some kind of altercation will happen between them. We'll just have to get our popcorn and be ready for it when it does happen.
Tristan Wirfs & Donovan Smith vs. Cameron Jordan
When the Bucs re-signed Donovan Smith to a three-year extension in 2019, Cameron Jordan "celebrated" by tweeting out "Food solidified for another 3 years!" implying that he ate a lot of sack lunches when he played against Smith. That was then; this is now. Since making that statement, Jordan has been starving, getting just 2.5 sacks in 5 games versus the Buccaneers and none since the 2019 season. He has been unable to get to Tom Brady through Smith or Wirfs in the last three games. Hopefully, that trend continues.
Devin White vs. Alvin Kamara
Lavonte David should be back in the lineup on Sunday, which will give Todd Bowles the chance to free Devin White up a little bit and let him play his game — that means he could be assigned to shadowing Alvin Kamara EVERYWHERE he goes. I expect a BIG game from White, who loves to rise to challenges like this one.
Todd Bowles vs. Sean Peyton
It is Genius versus Genius right here. The game plan starting out. The adjustments throughout the game. The chess match between two guys that are at the top of their profession. It's always fun to watch, and it will determine the outcome of this game.
SAINTS OVERALL
The Saints may be 4-2, but I don't think they're a 4-2 football team. They have struggled to find their new identity in the post-Brees era. In Week 1, they beat the Green Bay Packers 38-3 but then turned around and lost to the Carolina Panthers 28-7 the next week. They beat the Patriots 28-13 in Week 3 and then lost to the Giants 27-21 the next game. They have won two in a row, beating Washington 33-22 and Seattle in a close one, 13-10 last Monday night. Having no Michael Thomas is HUGE in this game. No Taysom Hill takes the trickery out of Peyton's playbook. Having Mark Ingram could help them out, depending on how much he plays. It could allow them to use Kamara more in the passing game. I just don't think the Saints have the offensive firepower to hang with the Bucs. No offense, because most teams don't. The Bucs offensive line has been one of the best in football this season, and they should neutralize the Saints' defense and allow the offense to do what they do — this is not the same Saints team that we've known for the last decade, but then again, this isn't the same Bucs team either.
GAME PREDICTION
With all of that being said, it's time for my prediction. With the Saints' defense outmanned and the Saints' offense outgunned, the Bucs SHOULD win this game easily. New Orleans will have the home-field advantage, as I'm sure the Dome will be rockin', but even that Saint's "12th Man" won't be enough to withstand the Buccaneers invasion. I see the Bucs jumping out early and never looking back. That causes the Saints to abandon their run game and forces Winston to start slinging it, which leads to a couple of devastating turnovers and the eventual loss.
FINAL SCORE: 
BUCS 34 SAINTS 16
 Saints Week is always a big one. They're our most hated rivals; they're in our division, AND our former #1 draft pick QB is now the heir apparent to Drew Brees and their new starting quarterback. It's not just big this time; it's HUGE. A win for the Saints puts them at 5-2, just a half-game behind the 6-2 Bucs. A win for the Bucs puts them at 7-1 and will put the NFC South title a little further out of reach for the Saints. It would also help them keep pace with the 7-1 Cardinals, the 7-1 Packers, the 6-1 Rams, and the 5-1 Cowboys. It's not a "must-win" game by any means, but it's the next game. And if you ask anyone in the Buccaneers organization, that's the most important game. So now that you know all you need to know…
NEW ORLEANS SAINTS, YOUR ASS IS ON THE CLOCK!