Buccaneers at Saints Injury Report: Don't Panic
2 min read
By now, you have probably seen the final injury report, and like many, you probably put your face in your hands and sighed, but it's not as bad as it seems.
Among the names on that list, only Bucs' wide receiver Chris Godwin is listed as OUT, and that is pretty much a no-brainer, considering he pulled a slight hamstring during NFL Opening Weekend against the Dallas Cowboys. No, the Buccaneers did not play him too early, even if you, or they, think the team might have. Godwin pulling a hamstring was likely to happen sometime during the season — it comes with the territory. Late last season, Godwin suffered multiple tears in his knee (ACL/MCL), which resulted in him missing the remainder of the 2021 season and having surgery back in January (2022). In a video you will find below, Dr. Jesse Morse explains that Godwin's ACL recovery could have led to his hamstring injury.
Dr. Jesse Morse explains how Godwin's ACL recovery could've led to a hamstring injury. DR. Morse also gives an idea of how much time the veteran receiver could be missing.
DOUBTFUL
Listed as DOUBTFUL is Donovan Smith, who hyper-extended his elbow last week. Smith could play Sunday, depending on how much pain he can take. He is one tough son of a gun, so do not be surprised if Smith is out there on Sunday shoving Saints linemen around.
Also listed as Doubtful is rookie cornerback Zyon McCollum with a hamstring injury. As for the rookie playing, I wouldn't count on it. He was sat down last week, and I would expect that to be the case again this week. If he's not 100%, I do not think that Todd Bowles is going to throw him out there this Sunday. But if he's good to go, then let the 'ROOK play.
QUESTIONABLE:
Questionable is the word that seems to have had fans worried the most. Mike Evans (calf), Julio Jones (knee), Leonard Fournette (hamstring), Russel Gage (hamstring), Breshad Perriman (knee), and Tristan Wirfs (abdomen). Of those, only Breshad Perriman might not play this Sunday. These injuries are minor, and these are regular week-to-week happenings. I wouldn't worry about Mike Evans — it's just a bruise, folks.
As for Tom Brady, Akeim Hicks, and Lavonte David, You better believe they will play this Sunday. Non-football-related absences.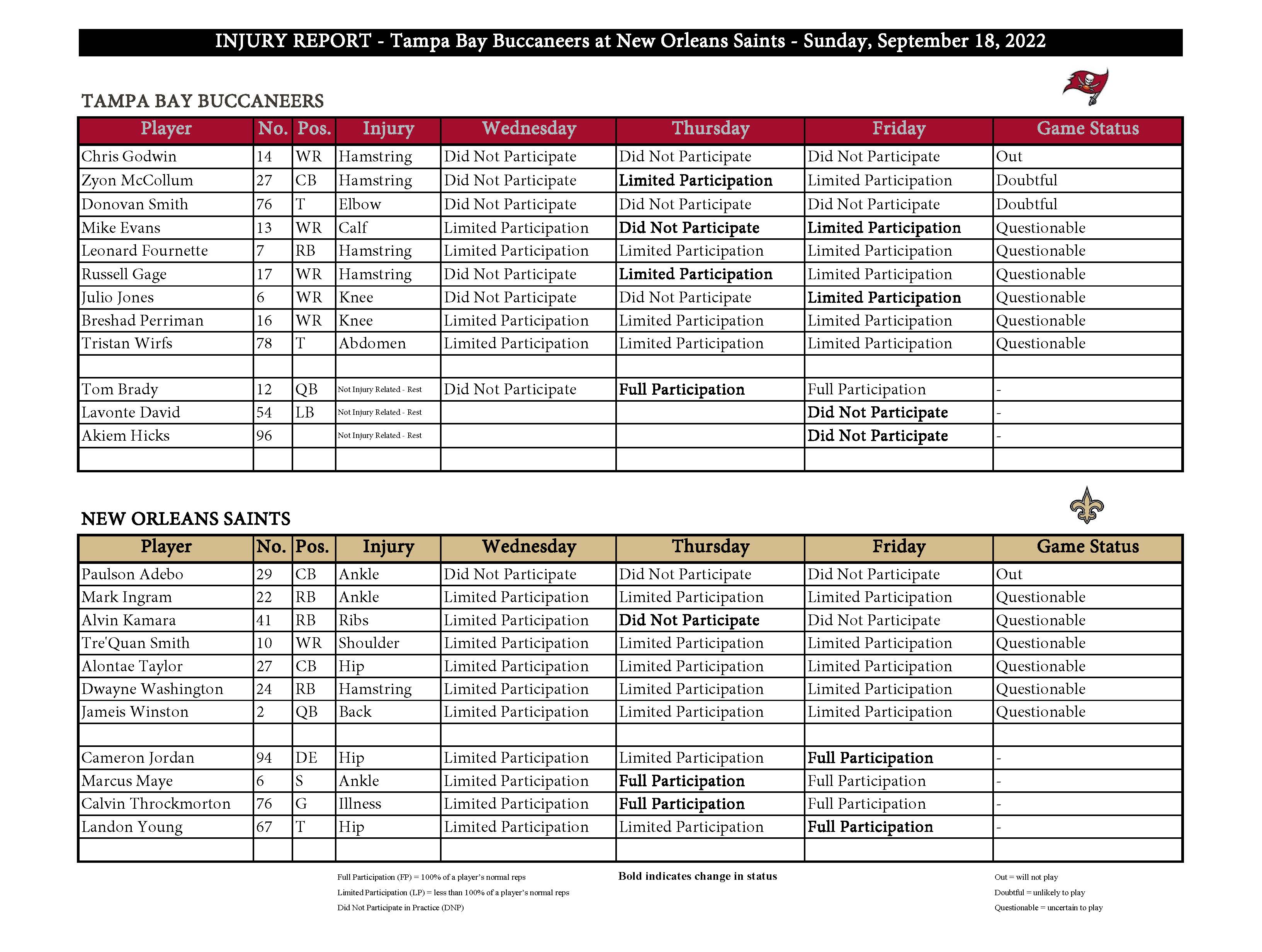 Have you seen Bucs Life Bling, yet? Check it out!